High Performance Tungsten carbide Roughing End mill in 4 flutes HRC55
1. Products Description

Roughing End Mills also known as ripping cutters orhoggers, are designed to remove large amounts ofmetal quickly and more efficiently than standard endmills. Coarse tooth roughing end mills remove largechips for heavy cuts, deep slotting and rapid stockremoval on low to medium carbon steel and alloy steel prior to a finishingapplication.

HRC45
HRC55
HRC60
HRC65
Grain Size:0.6um
Co:10 %
Flexural strength:3350N/mm2
Grain Size:0.6um
Co:10 %
Flexural strength:4000N/mm2
Grain Size:0.5um
Co:12 %
Flexural strength:4300N/mm2
Grain Size:0.4um
Co:12.5 %
Flexural strength:4300N/mm2

2. Application
Used for cutting Carbon steel, Tool steel, Mould steel, Stainless steel, Titanium alloy, Copper, Cast Iron and Aluminium, etc.
Grinding equipment: WALTER, ANCA, ROLLOMATIC
Testing equipment: ZOLLER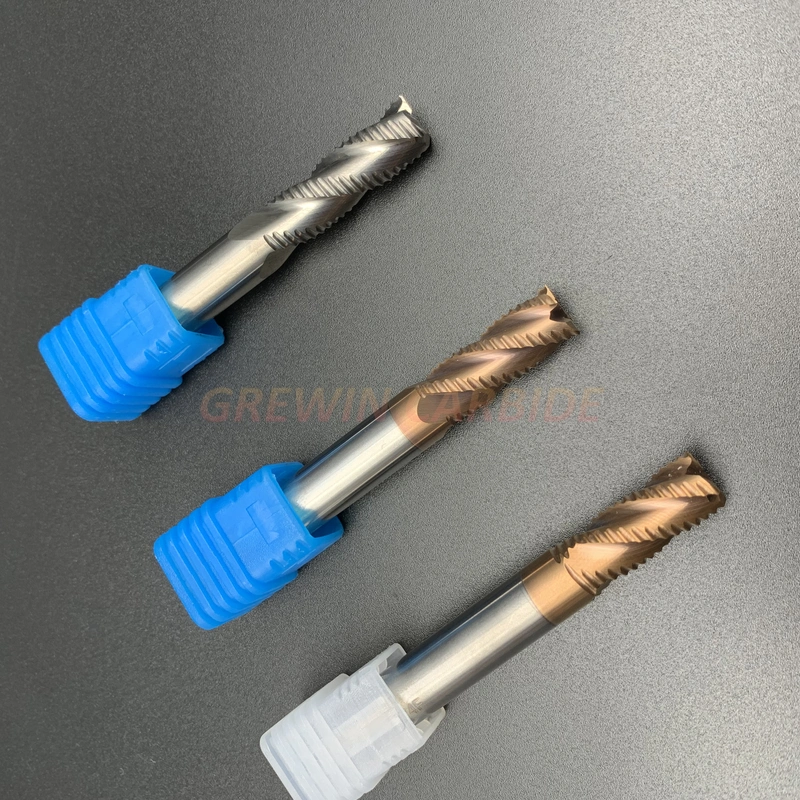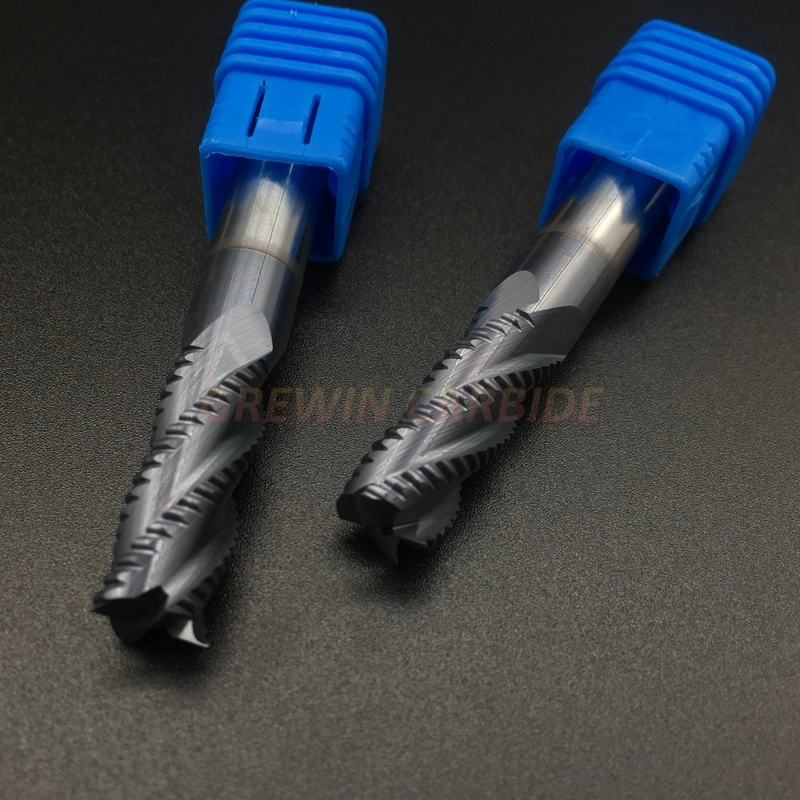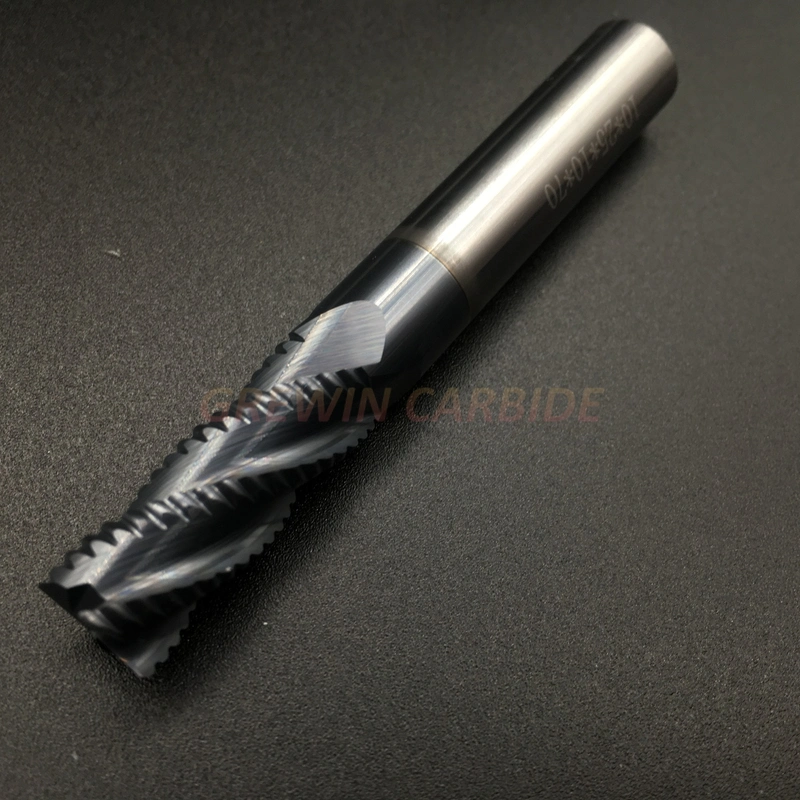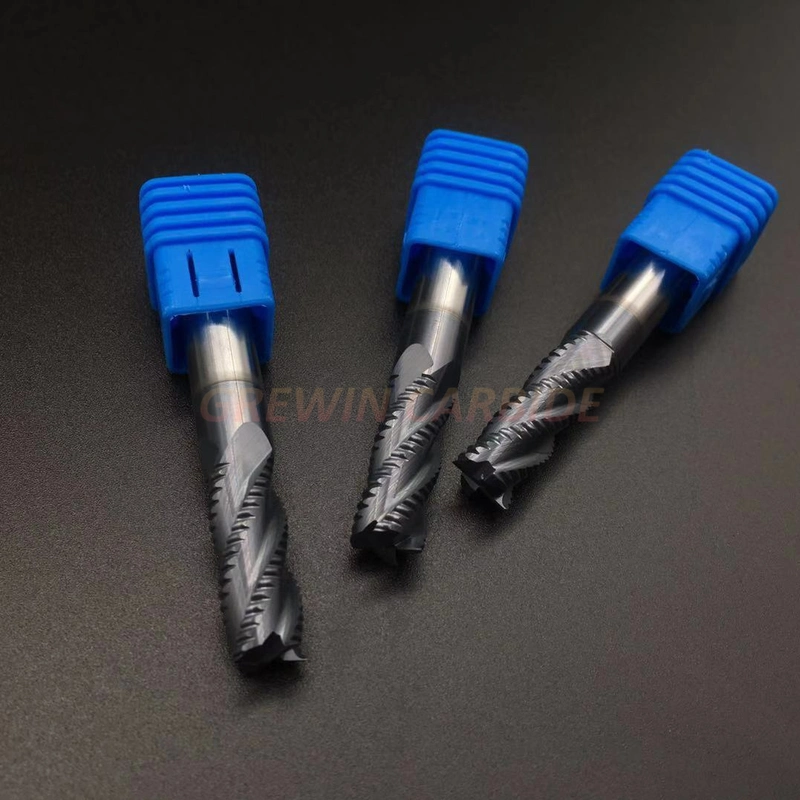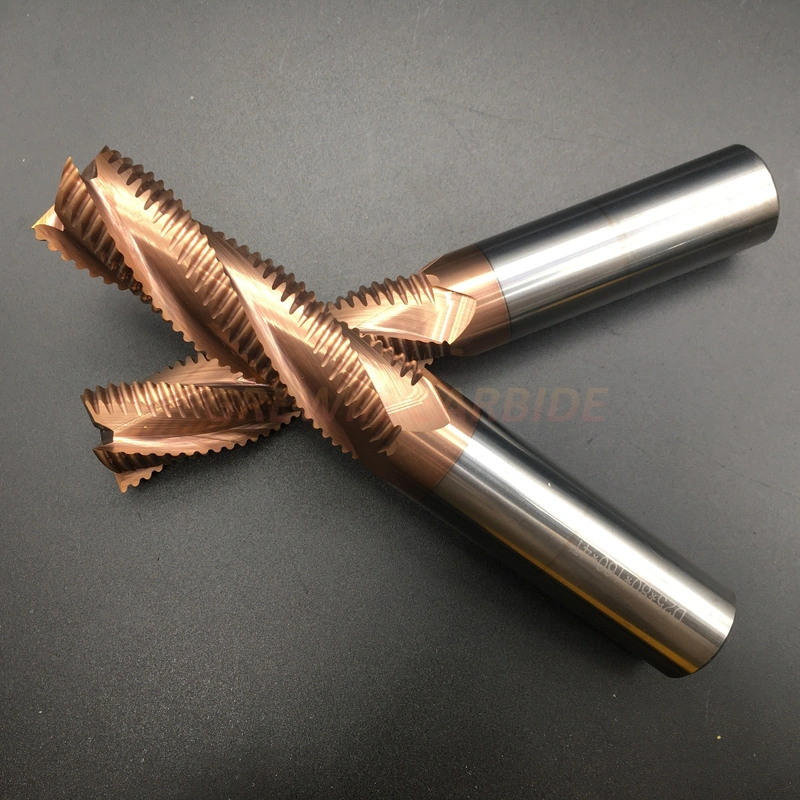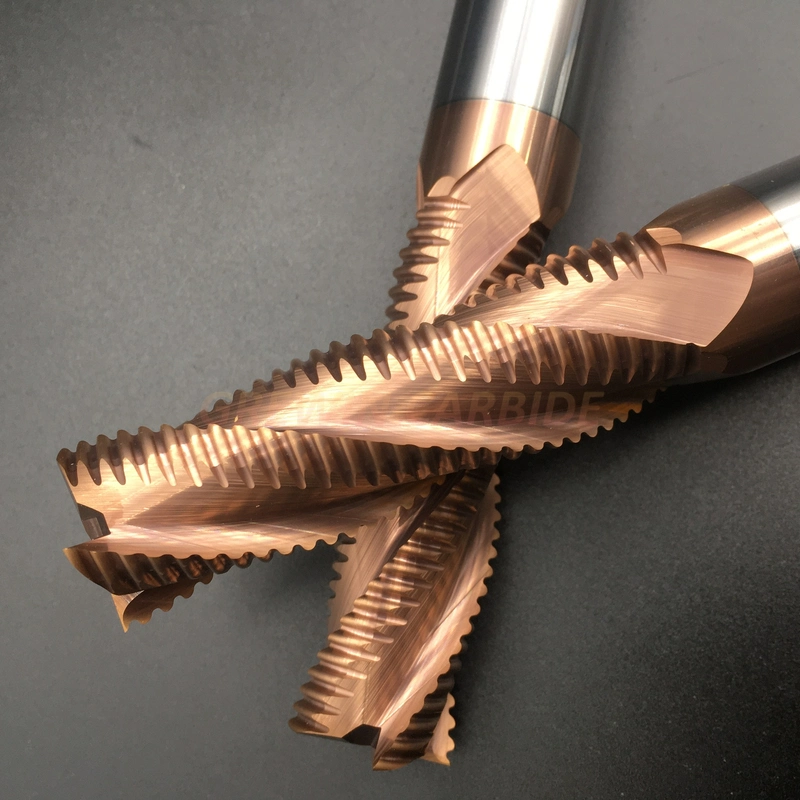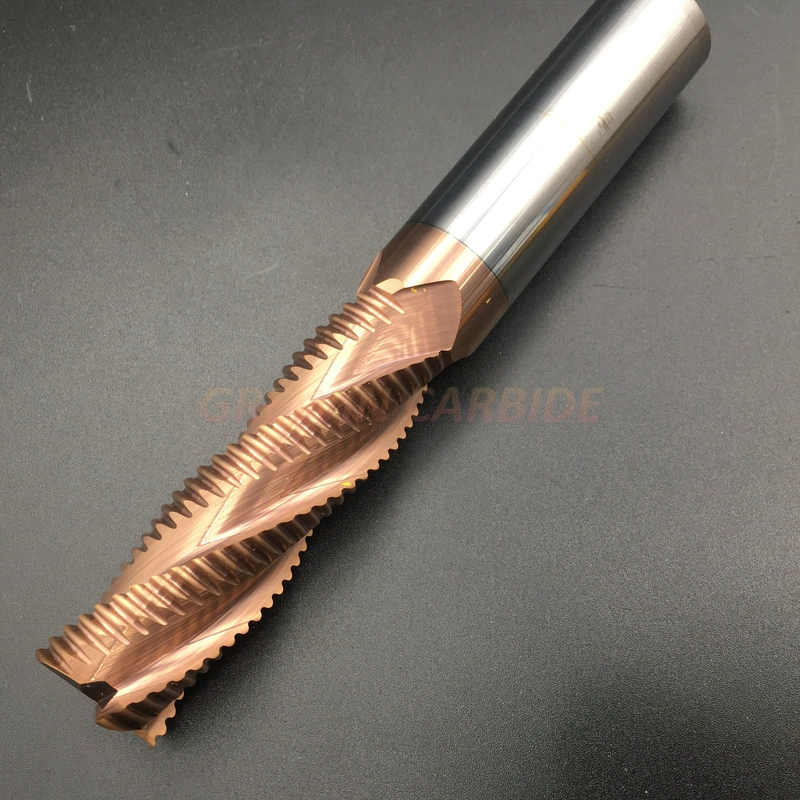 3. Coating
| | | | | | | |
| --- | --- | --- | --- | --- | --- | --- |
| Coating | Color | Coating Temperature | Thickness (um) | HV | Application Temperature | Friction coefficient |
| TiAlN | Purple-Gray | <600°C | 3-5 | 3300 | 800 °C | 0.3 |
| AlTiN | Black | <600 °C | 3-5 | 3500 | 900 °C | 0.3 |
| TiSiN | Copper | <600 °C | 3-5 | 3500 | 1500 °C | 0.4 |
| NaNo | Blue | <600 °C | 3-5 | 3800 | 1200 °C | 0.4 |
| CrN | Silver Gray | <480 °C | 2-2.5 | 2500 | 700 °C | 0.3 |
4. Packing
Laser print brand name on cutter shank, 1 pcs in a plastic tube, 10 pcs per group
5. Delivery time
Keep stock for regular types
Samples: 3 - 5 days
Regular orders: 7 - 10 days
Standard Sizes:
| | | | | |
| --- | --- | --- | --- | --- |
| Order No. | Flute dia (d) | Cutting length ( l ) | Shank dia (D) | Overall length(L) |
| 1.0×2.5×4D×50L | 1.0 | 2.5 | 4 | 50 |
| 1.5×4×4D×50L | 1.5 | 4 | 4 | 50 |
| 2.0×5×4D×50L | 2.0 | 5 | 4 | 50 |
| 2.5×7×4D×50L | 2.5 | 7 | 4 | 50 |
| 3.0×8×4D×50L | 3.0 | 8 | 4 | 50 |
| 3.5×10×4D×50L | 3.5 | 10 | 4 | 50 |
| 4.0×10×4D×50L | 4 | 10 | 4 | 50 |
| 4.5×11×6D×50L | 4.5 | 11 | 6 | 50 |
| 5.0×13×6D×50L | 5.0 | 13 | 6 | 50 |
| 5.5×13×6D×50L | 5.5 | 13 | 6 | 50 |
| 6.0×15×6D×50L | 6.0 | 15 | 6 | 50 |
| 6.5×15×8D×60L | 6.5 | 15 | 8 | 60 |
| 7.0×17×8D×60L | 7.0 | 17 | 8 | 60 |
| 7.5×17×8D×60L | 7.5 | 17 | 8 | 60 |
| 8.0×20×8D×60L | 8.0 | 20 | 8 | 60 |
| 8.5×25×10D×75L | 8.5 | 25 | 10 | 75 |
| 9.0×25×10D×75L | 9.0 | 25 | 10 | 75 |
| 9.5×25×10D×75L | 9.5 | 25 | 10 | 75 |
| 10.0×25×12D×75L | 10.0 | 25 | 12 | 75 |
| 10.5×25×12D×75L | 10.5 | 25 | 12 | 75 |
| 11.0×28×12D×75L | 11.0 | 28 | 12 | 75 |
| 11.5×28×12D×75L | 11.5 | 28 | 12 | 75 |
| 12.0×30×12D×75L | 12.0 | 30 | 12 | 75 |
| 13.0×33×16D×100L | 13.0 | 33 | 16 | 100 |
| 14.0×40×16D×100L | 14.0 | 40 | 16 | 100 |
| 15.0×40×16D×100L | 15.0 | 40 | 16 | 100 |
| 16.0×40×16D×100L | 16.0 | 40 | 16 | 100 |
| 17.0×40×20D×100L | 17.0 | 40 | 20 | 100 |
| 18.0×40×20D×100L | 18.0 | 40 | 20 | 100 |
| 19.0×40×20D×100L | 19.0 | 40 | 20 | 100 |
| 20.0×40×20D×100L | 20.0 | 40 | 20 | 100 |
| 25.0×40×25D×100L | 25.0 | 40 | 25 | 100 |