We provide High Quality Carbide End MIlls with TiAlN/AlTIN/Si3N4... Coatting which are high precision, highly efficient and heavy cutting. Suitable materials for operations: Copper&Aluminum, Iron Materials, Carbon Steel, Cast Iron, Molding Steel, Alloy Steel, Tool Steel.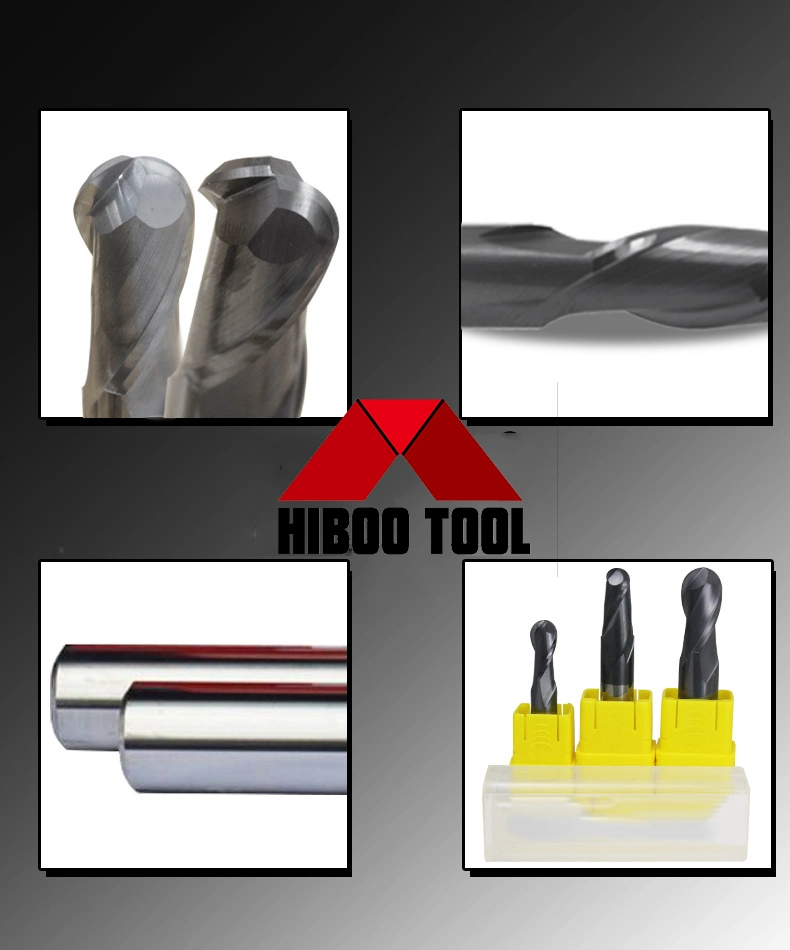 1. Product Description
1) Raw Materials:
SANDVIK,Teagutec,Kennametal and Guhring
* WC=90%, Co=10%, TRS>4000N/mm2; Hardness>92HRA, Grain size: 0.5-0.6um; High qulaity of wearability and impact
2) Super SI3N4:
*reduce the coeffiction of friction, and improve the tools life much.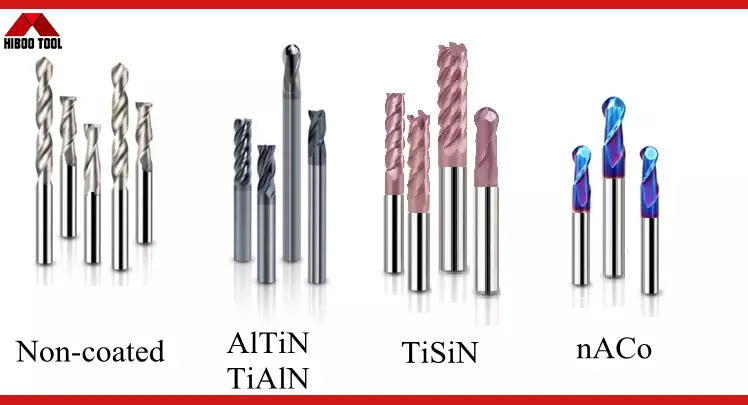 3) Detection:
Each end mill is inspected by Zoller measuring and inspected machine.
4) Work Piece:
*Carbon steel, alloy steel, cast steel, tooling steel, mould steel, heat-treament steel. Aluminum alloy steel, Non ferrous alloy1. Aluminum Carbide End mills Specification
5) Main Technical Parameters:
| | | | | | |
| --- | --- | --- | --- | --- | --- |
| Diameter | Cutting Length | Shank Diameter | Overall Length | Radius Corner | Flutes |
| 1.0 | 3 | 4 | 50 | 0.5 | 4 |
| 1.5 | 4 | 4 | 50 | 0.5 | 4 |
| 2.0 | 5 | 4 | 50 | 0.5 | 4 |
| 2.5 | 7 | 4 | 50 | 0.5 | 4 |
| 3.0 | 8 | 3 | 50 | 0.5 | 4 |
| 3.0 | 8 | 4 | 50 | 0.5 | 4 |
| 3.5 | 9 | 4 | 50 | 0.5 | 4 |
| 4.0 | 10 | 4 | 50 | 0.5 | 4 |
| 5.0 | 13 | 5 | 50 | 0.5 | 4 |
| 5.0 | 15 | 6 | 50 | 0.5 | 4 |
| 6.0 | 15 | 6 | 50 | 0.5 | 4 |
| 8.0 | 20 | 8 | 60 | 0.5 | 4 |
| 10.0 | 25 | 10 | 75 | 0.5 | 4 |
| 12.0 | 30 | 12 | 75 | 0.5 | 4 |
| 14.0 | 40 | 14 | 100 | 0.5 | 4 |
| 16.0 | 40 | 16 | 100 | 0.5 | 4 |
| 18.0 | 45 | 18 | 100 | 0.5 | 4 |
| 20.0 | 45 | 20 | 100 | 0.5 | 4 |